About Mangalore
Located along the Arabian Sea, the beautiful coastal city of Mangalore is one of the important centers of education and healthcare in India.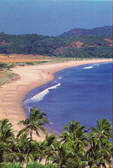 The city is famous for its many professional colleges, which attract students from all over the world. The high educational standard of the region has prompted major software companies to set up their I.T. parks and BPO in Mangalore.
Mangalore is the headquarters of Dakshina Kannada district, which is a flourishing hub of trade and commerce. The region has given birth to four nationalised banks and is famous for its traditional industries like cashew processing, tile manufacturing and beedi rolling. Having the only all-weather port of Karnataka, the city is considered to the 'Gateway of Karnataka' and has many small and heavy industries.
Being situated at the foothills of the towering Western Ghats mountain range, with its rich flora and fauna, Dakshina Kannada is famous for its abundant greenery, natural splendour and scenic beauty.
Mangalore has pleasant weather and well educated people who are friendly and amicable. The region has a vibrant history and cultural heritage, made famous by Yakshagana (folk theatre), Kambala (water buffalo race), Bhoota Kola (spirit worship) etc.
How to reach Mangalore
Mangalore is the only city of Karnataka state that is well connected by all four modes of transport - road, rail, air and sea.
By Air: Mangalore International Airport is located at Bajpe, which is at a distance of 14 kms from Hotel The Prestige. The airport services daily Domestic flights to and fro Mumbai, Bangaore, Chennai, Goa , Kochi and Kozhikode along with direct International flights to Sharjah, Dubai, Kuwait, Quatar and Abu Dhabhi.
By train: Both Konkan Railway and Southern Railway networks touch the city, giving broad-gauge link to Goa, Mumbai, New Delhi, Thiruvananthapuram, Bangalore, Cochin and Chennai. The city has two railway stations - Mangalore Central (2 kms) and Kankanady (5 kms).
Kudroli Gokarnanatha Temple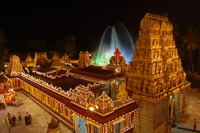 This temple, which has been recently renovated, is one of the tourist attraction places in Mangalore. Dasara Festival is celebrated with great pomp here, which includes the annual lantern festival and a grand Navarathri procession of the city by the deity.
Syed Madani Dargah, Ullal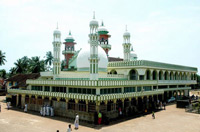 Famous for the Uroos Fair, this is one the main mosques in the region and attracts pilgrims from far and near.
1000 Pillar Temple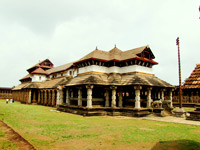 The Tribhuvana Tilaka Chudamani basadi, as this Jain shrine is formally known,
The Tribhuvana Tilaka Chudamani basadi, as this Jain shrine is formally known, is the largest of its kind in coastal Karnataka and is considered to be the most ornate of the Jain temples of this region. It was built in successive stages between 1430 and 1516. The stone carvings of this temple are of high quality and never fail to impress the visitor. The 9 feet high bronze statue of Chandranath in Kayotsarg posture is very attractive. It bears the inscription dated March 27, 1430. It is in this basadi that the rare Jain palm leaf manuscripts of 12th century A.D. known as 'Dhavala texts' were discovered.
Kateel Sri Durga Parameshwari Temple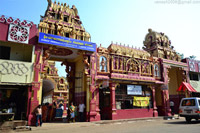 Situated on the banks of River Nandini, 28 kms away from Moodabidri amidst beautiful surroundings, is the spiritual nerve centre of South Kanara district.
Mangalore Culture and Traditions
Dakshina Kannada district has a colourful and vibrant cultural heritage, which can be witnessed in its performing arts, folk sports and rituals.
Naagamandala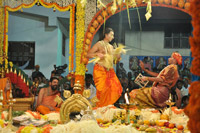 An elaborate ritual dedicated to the snake god, this is an overnight event - an experience in itself.
Bhuta Kola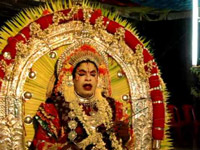 The ritual propitiation of the spirits, this overnight event involves an impersonator who takes on the role of a Bhoota - a legendary spirit invoking a folk hero of the region. This colourful and awe-inspiring event is as elaborate as it is wonderful.